Delphine Pol
- Docteur en math&eacutematiques -
Courriel : lastname [_at_] mathematik.uni-kl.de (remplacer lastname par pol)


Deutsche Version

English version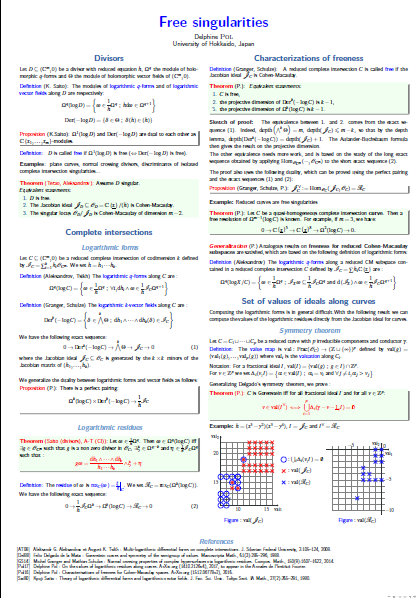 J'ai obtenu mon doctorat de math&eacutematiques &agrave l'Universit&eacute d'Angers en d&eacutecembre 2016. J'ai ensuite &eacutet&eacute postdoctorante &agrave l'Universit&eacute de Hokkaido au Japon, puis &agrave l'Universit&eacute Technique de Kaiserslautern en Allemagne.


Domaines de recherche
Mes travaux de recherche r&eacutealis&eacutes pendant ma th&egravese et mes postdocs portent sur :
un type particulier de singularit&eacutes appel&eacutees "singularit&eacutes libres"
un cas particulier de singulartit&eacutes libres : les courbes
les arrangements de sous-espaces vectoriels
des singularit&eacutes provenant de graphes
Programmation
D'octobre 2020 &agrave septembre 2021, j'ai &eacutet&eacute d&eacuteveloppeuse pour le logiciel de calcul formel
OSCAR
, &eacutecrit en
Julia
. Mon r&ocircle &eacutetait de :
d&eacutevelopper une structure pour les courbes alg&eacutebriques planes
impl&eacutementer des fonctions pour travailler avec les courbes
&eacutecrire la documentation correspondante
&eacutecrire des tests afin de permettre l'int&eacutegration continue via GitHub Actions
Dans le cadre de mes travaux de recherche, j'ai utilis&eacute le logiciel
Singular
. J'ai d&eacutevelopp&eacute la biblioth&egraveque suivante pour Singular, en collaboration avec Raul Epure :
Travaux et articles
Th&egravese de doctorat
Publications
M&eacutemoires
Prix et bourses
Bourse Postdoctorale Humboldt Research Fellowship for Postdoctoral Researcher (2 ans)
Bourse Postdoctorale de la Japan Society for the Promotion of Science (JSPS) Short-term (1 an)
3&egraveme prix du poster pour le poster Plane curves and the symmetry of values, JDoc 2015, 9 avril 2015, Angers, France
Allocation doctorale Angers Loire M&eacutetropole (3 ans)
Organisation de rencontres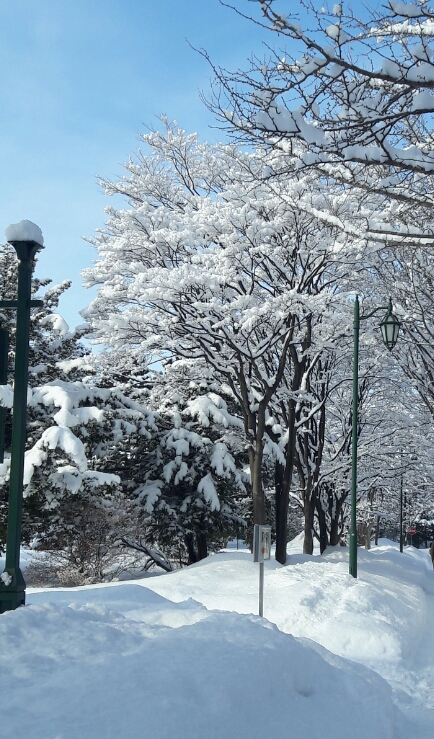 Enseignement
2019-2020
Cours sp&eacutecialis&eacute "Plane curve singularities"
Cours de Bachelor "Plane Algebraic curves" (cours par M. Schulze)
2018-2019
Co-encadrement avec M.Schulze du s&eacuteminaire &eacutetudiants "Topics in Algebra and Geometry" sur les D-modules
Sessions d'exercices du cours "Plane Algebraic curves"
2014-2017
L1 MPCIE (Math&eacutematiques, Physique, Chimie, Informatique, Economie) :

Cours-TD "Mise &agrave Niveau Math&eacutematiques" : programme de Terminale Scientifique
Cours-TD "Fondements de Math&eacutematiques" : nombres complexes, fonctions
Cours-TD "Alg&egravebre lin&eacuteaire &eacutel&eacutementaire" : espaces vectoriels, matrices
Colles de math&eacutematiques



L2 MPCIE :

TD "Alg&egravebre bilin&eacuteaire" : formes quadratiques, cours assur&eacute par Laurent Evain
TD "Analyse 2" : suites et s&eacuteries de fonctions, cours assur&eacute par Laurent Meersseman